Sentinel Doorstation MKII
Versatile, easy to use, durable and dependable.
The Sentinel Doorstation gives occupants of apartment and office buildings a safe means to communicate with visitors and a secure way of allowing entry.
The Sentinel MKII is designed for unguarded apartment and office buildings. It offers secured entry intercom, code access
door release, and an intelligent telephone all in the one unit, with auto answer and termination of calls. Occupants can communicate with visitors and allow keyless gate entry. its non—volatile memory is capable of storing up to 500 phone numbers.
The Sentinel gives occupants of apartment and office buildings a safe means to communicate with visitors and a secure way of allowing entry.
The Sentinel is suitable for premises where there is a constant need for entry and exit. There is no special equipment required at the apartment end as visitors enter the occupants apartment number and press the '#' key, the occupant takes the call on their normal telephone. Entering the access code by way of the telephone keypad, the occupant may then release the door or gate.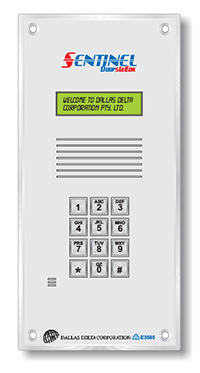 FEATURES
500 phone number capacity, 16 digits maximum
keyless entry code for each room
2 on board relays with unique codes
dual line LCD with back light
non volatile memory
backup battery circuitry built in
programmable company logo l building name
auto hang up and auto answer facilities
flexible 1 to 6 digit room numbers
RTC recording and storing of gate events
half duplex hands free operation
loud speaker output of 1 watt peak
one telephone line required (and power pack supplied)
remote operating features (speaker and mic level control)
dual remote relay activation (door/gate release)
local programming facilities
optional no bill interface available
RFID card reader for gate release (optional)
vandal resistant
weather shielded (optional)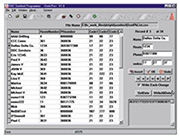 SENT-PRO SOFTWARE
The Sentinel Programmer Sent-pro is a windows based package that provides access to parameters and tenant details not available via the Sentinel keypad method.
EASY TO USE
Occupants have an extra benefit, Key/ass Entry, by entering their access code at theSentinel to open the door or gate. The system operates over the PSTN or a PABX, with the only costs being a line rental and local call costs if connected to the PSTN or at no extra costs on an existing internal PABX system. Now available for the Sentinel is theNo Bill Interface which cuts out the local call costs when not connected to a PABX. When compared to the cost of a dedicated intercom system, with the extra cabling and equipment required at each apartment or office and the ongoing maintenance costs, the Sentinel wins hands down. TheSentinel can also be ordered as a vertical mount unit.
The Sentinel Doorstation mkll boasts a vandal resistant, robust stainless steel housing. For in- wall installations the flush mount box is extremely handy. This allows the unit to be recessed into the wall. Mounting of your telephone can be easily made to just about any surface thanks to these versatile enclosures.